NC State's New OC: Robert Anae
We take a look around the web to find out what Robert Anae brings to NC State's offense.
We're doing a pod on this hire shortly, jump on the list to be notified of all our new content.
NC State is expected to hire Syracuse OC, Robert Anae soon and the most common question is: "Is this a good hire?"
While I'm emphatically going to say yes, let's look at why.
First, we're not alone.
National media and CFB Writers like this hire for NC State
His track record:
Now Taysom Hill is an elite athlete but that is serious production out of 3 guys who are not likely to be long-term NFL players at QB.
That's cool but what is he going to run?
Simple answer: Air Raid
Better answer: He's going to match the talent on the roster to what he runs which is a wild departure from what we've seen in the recent past where we've just jammed folks into packages and hoped it works.
💡
Anae has had both a top 10 rushing offense (BYU) and a top 10 passing offense (UVA).
He's not pigeon holing himself into one-style or another, he's adjusting to what talent he has.
Stress the Defense
If you've listened to the pod, you'll know we've asked for an offense that is simple to run and stresses the defense.  Use formations and variating looks to put defenders in conflict ie Wake's slow mesh, Coastal's option formations etc.
Here's what NC State great Mike Glennon said recently about Anae:
I love that.
That's what the air-raid was designed to do. If you've ever heard Mike Leach talking about their practices, you'd hear him say they run the same concepts from different formations so it makes it easy on players to execute to perfection.
I love that.
True Complimentary Football
We've railed against the concept of "Complimentary Football" that the staff throws around in every press conference, mainly because it always seemed so forced.  You have an aggressive DC and an OC that needs to be told to let Leary sling it while rolling out predictable formations.  
Now NC State not only has an aggressive DC, we've got an OC whose style and pace can keep up. This is the kind of complimentary football we're looking for.
Anae's Leach/Mumme Roots
A poster on IPS had a very succinct break-down of Anae's CV
For those who love Norm Chow, this is basically a dressed up version of the old Doug Scovil/Norm Chow BYU offense with a lot more formations, motion, and shotgun. Similar to how Anae's BYU OL teammate Andy Reid has been evolving it in recent years in KC with Mahomes. All kinds of formations. From 5 wide to very old school stuff. Against Illinois in 2021 in the red zone, Anae went straight up 1983 by running under center, split back, Pro Set....
He continued on the Air Raid
For those who hold reverence for the Air Raid, look where Mumme & Leach said they got a lot of the Air Raid passing concepts (those early 1980s BYU teams Anae played on.) Mumme & Leach just put BYU stuff almost exclusively in shotgun, moved some players out of the backfield into the slot, added some Run N' Shoot route-running options, and sped up the tempo. Anae's done similar stuff and adapted to modern concepts like RPO.
..on Anae's use of tempo
Anae seems to love playing uptempo, and did so a decade before he called plays for Dino. Worked with Leach and Rich Rod, too. We'll see how Dave feels about the tempo Anae likes to play at. He historically wants 80+ plays a game, and that's not always been our speed.
His last comment sums it up.
Should be fun. Won't be perfect. Won't be boring either. A guy like Trent Pennix should eat in this offense if he's around and healthy, because Anae will use him. We were probably attractive because (in theory) we can attract more talent to run the offense than BYU, UVa, Syracuse, etc.
What does this mean for NC State's QB Room?
The real question was always going to be, what does this mean for NC State's QB Room?  Devin Leary is in the portal and it sounds like MJ Morris is the guy at the moment.
I suspect NC State will still try and bring in a QB from the portal to compete. After using 4 QBs this year, they aren't going into the season with MJ, Ben Finley and true freshman Lex Thomas as the only scholarship QBs on the roster.
As Glennon states in his commentary, MJ fits the bill of what Anae wants to do but Anae's former QB at UVA, Brennan Armstrong is in the portal along with dual-threat GT QB Jeff Simms.
#PodChat Reactions
The podchat has level-headed and varying opinions on most things but most people are universally in agreement this is a nice upgrade.
Hugely impressed with Anae hire. It's an air raid with a focus on having an move QB. It's almost the same scheme as what Dave had at NIU with Paxton Lynch with more aggression down field.
When I look at Anea what gives me hope. While at BYU and UVA he always had a tough offensive line.

We hired someone with a good system
We also hired someone who the other fan base did not want to leave
Cuse probably had the highest success rate vs State's defense this year. A lot of that probably had to do with Jack Chambers leading the offense to 3 and outs on offense. Hope Gibson talked to dave and said this dude's offense frustrates me.
An aggressive OC to go along with our aggressive DC…that's all I've ever wanted
Between 2013 and 2021, quarterbacks under Anae have averaged 3,368 passing yards and 513 rushing yards a season for an average of 3,880 yards of total offense.
I mean ask madden is a huge upgrade over some of Beck's play calling.

Specific Concepts:
From the DailyOrange breakdown:
Anae also utilized read options at UVA with Perkins, along with delayed quarterback draws and fake jet sweeps. Pre-snap motion and misdirections are a large part of Anae's offense and are being incorporated into SU's new offense, Jackson said. The motion helps set up one-on-one chances outside and can create leverage and mismatches for an offense, particularly in short pass plays against zone defenses.
Someone asked "How does he feel about screen passes?"
Short passes are a big part of the offense, with chunk plays over the middle helping set up deeper passes out wide and down the field. It's a concept that helped Perkins set a single-season UVA record with 3,538 passing yards in 2019 and allowed Armstrong to throw for 4,449 last season — the fourth-most nationally.
He's gonna use the tight-end
Much to my chagrin, the TE might become a bigger part of the offense.
Tight ends are also becoming a bigger part of the offense, Alford said. They've been running more routes in practice instead of just blocking, "opening up everything" as a result, he added. In UVA's offense under Anae, tight ends didn't have a large role, but Jelani Woods did bring in 44 catches for 598 yards last season.
Cav's corner has a great film room breakdown of UVA using the TE
CC also has a breakdown of how they use pre-snap motion.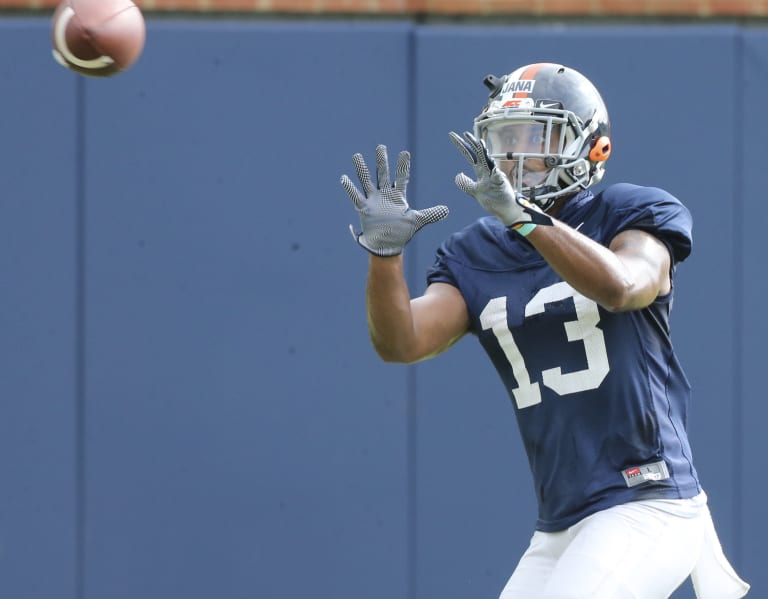 Glennon has broken down some of SU's passing concepts earlier this year
Flexibility with personnel!
Conclusion
On the pod I was on the Willy Korn train, and someone in the podchat asked "is this a better hire?" I think so but I'm not gonna lie, I like the Coastal system better as it is more unique.  This guy has the experience and flexibility that make it less risky and at this point in Dave's career, low-risk makes a lot of sense.  
In the end, is he perfect? Nah, no OC is but he's a guy who has had serious production at every place he's been and opposing fans are not happy to see him go.
Imagine if Tony Gibson had left us this year, I think we'd feel the same way. He's had some ups and downs but we love what he's doing on the whole.
I'm excited for what Anae can bring to the table and I think it is a good hire for what Dave wants to do with his program.